News for VALVE readers who procure, specify, use, maintain, repair, sell and manufacture valves, actuators & controls.

VALVE eNews is distributed every two weeks to more than 20,000 industry professionals
---
Water Infrastructure Act of 2018 Becomes Law

President Trump signed a sweeping law into effect this week that authorizes federal funding for water infrastructure projects, expands the nation's water storage capability and upgrades wastewater, drinking and irrigation systems. MORE

VMA's New Chair Cites Need for Technical Know-How

Among issues VMA's new chairman David Hughes lists as main challenges for the valve industry are the deep need for technical knowledge in all areas of the business and how possible trade legislation may affect the industry. MORE
VALVE INDUSTRY NEWS
Eric Luftig, Victaulic to Receive Spirit of Volunteerism Award MORE
Emerson Awards 2018 ASCO Engineering Scholarships MORE
Advanced Valve and Instrument Joins VMA MORE
Weir Valves & Controls USA Renews Certificates MORE
DeZURIK 90th Anniversary Open House Draws Big Numbers MORE
---
SPONSORED CONTENT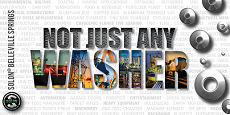 Solon Manufacturing Co. introduces new washer application search tool
Solon Manufacturing Co. announces a new, user-friendly approach to selecting Solon Belleville Springs & Washers. MORE
END-USER NEWS
IEA: Energy Prices Threaten World Economy MORE
Atlantic Pipeline Receives State Approval MORE
Canada to Impose Protective Measures on Steel Imports MORE
JupiterMLP to Build Permian-to-Gulf Pipeline MORE
Chevron Targets Houston for Second U.S. Refinery MORE
---
SPONSORED CONTENT

Showcase Your Products at POWER-GEN International
POWER-GEN covers power generation trending topics such as: Digital Solutions, Operations & Design of Gas-Fired Power Plants, What's New in Gas Turbines, Energy Storage Breakthroughs and much more! GREAT OFFER: Get $50 off your conference registration by using: PGIVALVE. MORE
---
Creep-Strength Ferritic Materials in Thermal Power

Creep-strength, enhanced ferritic materials are a costly but effective means to achieve coal and combined energies plant performance. Although microstructure degradation caused failures in the past, new processes are proving to be safe and efficient. MORE

Jumpstart Cyberthreat Protection with Assessments

In addition to preparing for future life-stage completion, high-level risk assessment aligns computer risk management with corporate criteria. It also identifies the highest areas of risk and develops a segmentation strategy to secure those zones. MORE
VALVE MAGAZINE
In Fall 2018:
2019 Outlook: Cautious Optimism
The mood coming out of the 2019 Market Outlook Workshop was bright with some lingering areas of concern. Fall's issue sums up what the economic experts have to say. MORE

In Winter 2019, we will cover:
The Basics of Steam in Place
Coming in winter is a feature that explains the challenges of Steam in Place, the process that ensures every square inch of the biopharmaceutical production line is sterilized, and reports on technology developed to handle those issues.


MANUFACTURING AND THE ECONOMY
Proposed Rule Reduces Cost of Retirement Plans for Small Manufacturers MORE
U.S. Leading Economic Indicators Increased in September MORE
Estimates Suggest Strong Third Quarter GDP Growth MORE
U.S. Tops Global Competitiveness Ranking MORE
Texas Economy Growing but Signs of Constraints Emerge MORE

RENEW YOUR SUBSCRIPTION TODAY
You are receiving this email as a past subscriber to VMA emails. To ensure delivery to your inbox, add us to your safe sender list.
Go to the subscription page to manage your email preferences
You can unsubscribe at any time via the "unsubscribe" link at the bottom of this email.


VALVE MANUFACTURERS ASSOCIATION OF AMERICA
1625 K STREET, NW, SUITE 325, WASHINGTON, DC 20006
VMA.org
To ensure our newsletter always reaches your inbox, please add

This email address is being protected from spambots. You need JavaScript enabled to view it.

to your
address book. If you prefer not to receive VALVE eNews in the future, you can
unsubscribe from this list.