News for VALVE readers who procure, specify, use, maintain, repair, sell and manufacture valves, actuators & controls.

VALVE eNews is distributed every two weeks to more than 20,000 industry professionals
---
Basics Program to Expand Further

Attendance and feedback from the recent Valve Basics Seminar & Exhibits (Oct. 30-Nov. 1) was so positive, planners are expanding the event next year to two programs of two days each. The first one (Industrial Valves) is planned for May 6-7 and Actuators & Controls is May 8-9. MORE

Mueller Buying Krausz Industries

Mueller Water Products, Inc. announced this week that it has signed an agreement to acquire Krausz Industries, Ltd., a manufacturer of couplings, grips and clamps. The company was founded in 1920 and had $43 million in net sales last year. MORE
VALVE INDUSTRY NEWS
Emerson to Automate Sonatrach Gas Processing Plant MORE
Metso Acquires Indian Actuator Company RMEPL MORE
RF Valves, Inc. Joins VMA MORE
Metso Increasing Valve Production Capacity in China MORE
Weir Moves to Sell Flow Control Business MORE
---
SPONSORED CONTENT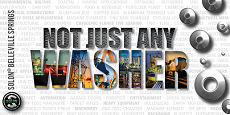 Solon Manufacturing Co. introduces new washer application search tool
Solon Manufacturing Co. announces a new, user-friendly approach to selecting Solon Belleville Springs & Washers. MORE
END-USER NEWS
U.S. Chemical Production Continues to Edge Lower MORE
U.S. Now World's Leading Oil Producer MORE
Major Oil & Gas Exporters Face Unprecedented Challenges MORE
Refiners Boosting Capacity to Accommodate Shale MORE
U.S. Manufacturers' Short-Term Capability to Switch Fuels Declining MORE
---
SPONSORED CONTENT

Showcase Your Products at POWER-GEN International
POWER-GEN covers power generation trending topics such as: Digital Solutions, Operations & Design of Gas-Fired Power Plants, What's New in Gas Turbines, Energy Storage Breakthroughs and much more! GREAT OFFER: Get $50 off your conference registration by using: PGIVALVE. MORE
---
Preparing for a Plant Outage

Outages and turnarounds both aim to repair or replace critical systems and equipment in the shortest time while spending the least amount of money. A methodical management process that's flexible for outage length and scope can accomplish these goals. MORE

Avoiding Bolting Disaster

Bolting played a critical role in the infamous space shuttle disaster. But cartridge live loading gives plant maintenance a consistent, reliable way to ensure valve assemblies are loaded correctly before they start, which means fewer failures and longer reliability. MORE
VALVE MAGAZINE
In Fall 2018:
Back to Basics: Why We Have Auxiliary Connections
Different types of auxiliary connections help the main valves in a line regulate flow. These types are designed and regulated according to what role they play. MORE

In Winter 2019, we will cover:
An End-user's Perspective
VALVE reports on what a long-time expert from Exxon-Mobil had to say about the evolution of valves that has occurred in his 40-plus years in the industry.


MANUFACTURING AND THE ECONOMY
U.S. Added 250,000 Jobs in October MORE
Midwest Manufacturing Grew at Slowest Pace Since Jan. 2017 MORE
Consumer Confidence Rises to 18-Year High MORE
Texas Manufacturing Expands at Slower Pace in October MORE
Third Quarter GDP Increased at 3.5% Pace MORE

RENEW YOUR SUBSCRIPTION TODAY
You are receiving this email as a past subscriber to VMA emails. To ensure delivery to your inbox, add us to your safe sender list.
Go to the subscription page to manage your email preferences
You can unsubscribe at any time via the "unsubscribe" link at the bottom of this email.


VALVE MANUFACTURERS ASSOCIATION OF AMERICA
1625 K STREET, NW, SUITE 325, WASHINGTON, DC 20006
VMA.org
To ensure our newsletter always reaches your inbox, please add

This email address is being protected from spambots. You need JavaScript enabled to view it.

to your
address book. If you prefer not to receive VALVE eNews in the future, you can
unsubscribe from this list.