News for VALVE readers who procure, specify, use, maintain, repair, sell and manufacture valves, actuators & controls.

VALVE eNews is distributed every two weeks to more than 20,000 industry professionals
---
Manufacturing Faces Unprecedented Skills Shortfall

A new study shows the widening gap in manufacturing skills may be worse than predicted just a few years ago. As many as 2.4 million jobs may go unfilled by 2028. MORE

Small-Scale LNG Offers Valve Prospects

Smaller LNG operations use liquefaction and regasification to get stranded natural gas to customers that need it. That means new possibilities for producers and valve makers. MORE
VALVE INDUSTRY NEWS
Allied Valve Merges with Automation Service MORE
A-T Controls Acquires Mighty Instruments MORE
Emerson Opens First Industrial Solutions Center in Korea MORE
Admiral Valve Partners with Prochem Pipeline Products MORE
API Urges Drillers to Use Automatic Shutoff Valves MORE
---
SPONSORED CONTENT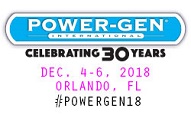 Power Generation CONNECTIONS!
POWER-GEN Int'l provides exposure to in-depth discussions on pressing industry issues in 70+ conference sessions, the latest technology and services with 1,100+ exhibitors and networking with 18,000+ industry colleagues from around the world. GET $50 OFF your registration by using: PGIVALVE - LEARN MORE!
END-USER NEWS
China Boosting Shale Oil, Gas Production MORE
Ethanol Producers Reeling from Trade Battles MORE
$1.2B Oil Export Facility Planned in Texas MORE
Federal Court Blocks Keystone XL Pipeline MORE
Louisiana LNG Export Plant on Track for 2019 MORE
---
---
VMA & VALVE Magazine Represented at Major Events

VMA President Bill Sandler will be at stand 4C21 for the Valve World Trade Fair & Conference Nov. 27-29, Dusseldorf, Germany. He then travels with other staff to Orlando for Power-Gen International Dec. 4-6 (booth 1570).

Choosing the Right Pins for Quarter-Turn Valves

Many designs are used to attach the closure member to the shaft of a quarter-turn valve. When choosing the pin, a three-level ranking system can help in deciding the right design and characteristics. MORE
VALVE MAGAZINE
In Fall 2018:
Rigging and Lifting of Large Valves
The complexity of large valve geometrics, oddly shaped actuators and other challenges require specific care and the right equipment. MORE

In Winter 2019, we will cover:
The Challenges of Super-clean
In winter's issue we cover the process of steam-in-place, which is a sterilization process used in biopharmaceutical and other processes where cleanliness is critical.


MANUFACTURING AND THE ECONOMY
Industrial Production Rose in October MORE
NAM: Manufacturing Day 2018 Considered a Success MORE
Houston Area Manufacturing Activity Expanding MORE
Manufacturing PMI Reaches Five-Month High MORE
Durable Goods Orders Up 0.8% in September MORE
RENEW YOUR SUBSCRIPTION TODAY
You are receiving this email as a past subscriber to VMA emails. To ensure delivery to your inbox, add us to your safe sender list.
Go to the subscription page to manage your email preferences
You can unsubscribe at any time via the "unsubscribe" link at the bottom of this email.


VALVE MANUFACTURERS ASSOCIATION OF AMERICA
1625 K STREET, NW, SUITE 325, WASHINGTON, DC 20006
VMA.org
To ensure our newsletter always reaches your inbox, please add

This email address is being protected from spambots. You need JavaScript enabled to view it.

to your
address book. If you prefer not to receive VALVE eNews in the future, you can
unsubscribe from this list.